The HydraFacial® is a revolutionary cosmetic procedure that exfoliates, extracts and cleanses the skin to help you achieve a more revitalized appearance.
Age and normal, everyday wear and tear can leave the skin looking and feeling tired. Acne, skin wrinkles, skin dryness and dilated pores are just some of the cosmetic issues that can cause the skin to lose its youthful luster.
MedicSPA Gatineau, serving the greater Ottawa area, is proud to offer HydraFacial® to women and men to help improve the overall quality of their facial skin.
Contact MedicSPA Gatineau at (819) 414-2200 to see if you are a candidate for HydraFacial®
HydraFacial® is a sophisticated facial that removes tired skin, dead cells and environmental grime to give you a fresh and rejuvenated look. This procedure uses the power of water with Vortex-Fusion technology to painlessly and effectively clear away old layers of skin (and imperfections with it) to uncover fresh and healthy skin beneath.
Not only is the HydraFacial® an effective standalone treatment, but it can help prepare your skin for other beauty treatments, including dermal fillers, CO2 laser treatments, PRP treatments, Fractora (microneedling), Morpheus8™, facial surgery and even PRP hair loss treatments.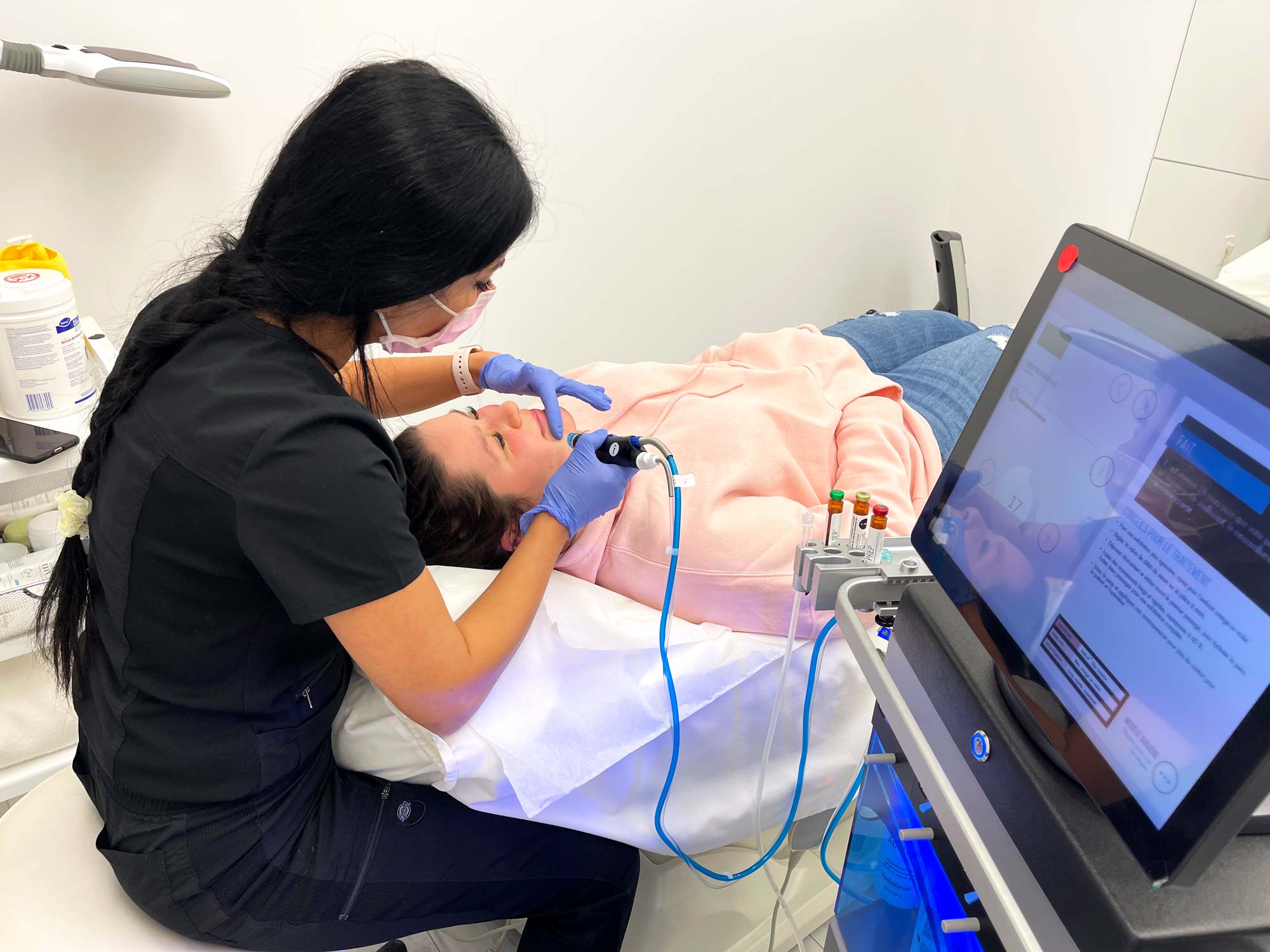 What Are the Benefits of HydraFacial®?
The HydraFacial® procedure can help you achieve stronger, more youthful skin in just one treatment. Treatment sessions can take as little as 45 minutes (or up to an hour and a half), and there is no downtime to worry about, which means that you can return to your normal, everyday activities immediately following your treatment.
In addition to improving the health and quality of the skin, HydraFacial® can help women and men of all ages minimize skin imperfections, including:
Acne
Wrinkles and fine lines
Slight skin laxity
Sun damage
Dry or oily skin
Body area treated:
Face, eyelids, lips, scalp
Procedure length:
45 minutes - 1h30
Visible results:
Immediate
For more details discuss with the doctor, not all effects and complications are listed
How Is HyrdaFacial® Performed?
The HydraFacial® includes a multi-step process to help rejuvenate the overall quality, look and feel of your skin. For this treatment, your skin care professional will move the handheld device over the treatment areas. This device is equipped with a tip that both exfoliates and suctions to provide comprehensive coverage and a quick treatment time.
Step 1 (Cleanse): During this step, the top layer of skin is removed (exfoliated) with water to reveal new and fresh skin.
Step 2 (Exfoliate): By removing dead cells, you can uncover a new layer of skin.
Step 3 (Extract): A painless suction removes any dead skin cells and other environmental debris from deep within the pores.
Step 4 (Hydrate): A moisturizing serum of antioxidants and other skin-renewing properties is applied to the skin to help nourish, soothe and protect the skin after the treatment.
Step 5 (Infuse): Antioxidants, hyaluronic acid and peptides are used to saturate the skin's surface.
Step 6 (Protect): These techniques and serums protect your skin for lasting clarity.
This treatment can be performed on the entire face; however, there is a version made specially for the lips or eyelids. Additionally, the HydraFacial® Deluxe includes lymphatic drainage of the face and neck to help you achieve optimal results.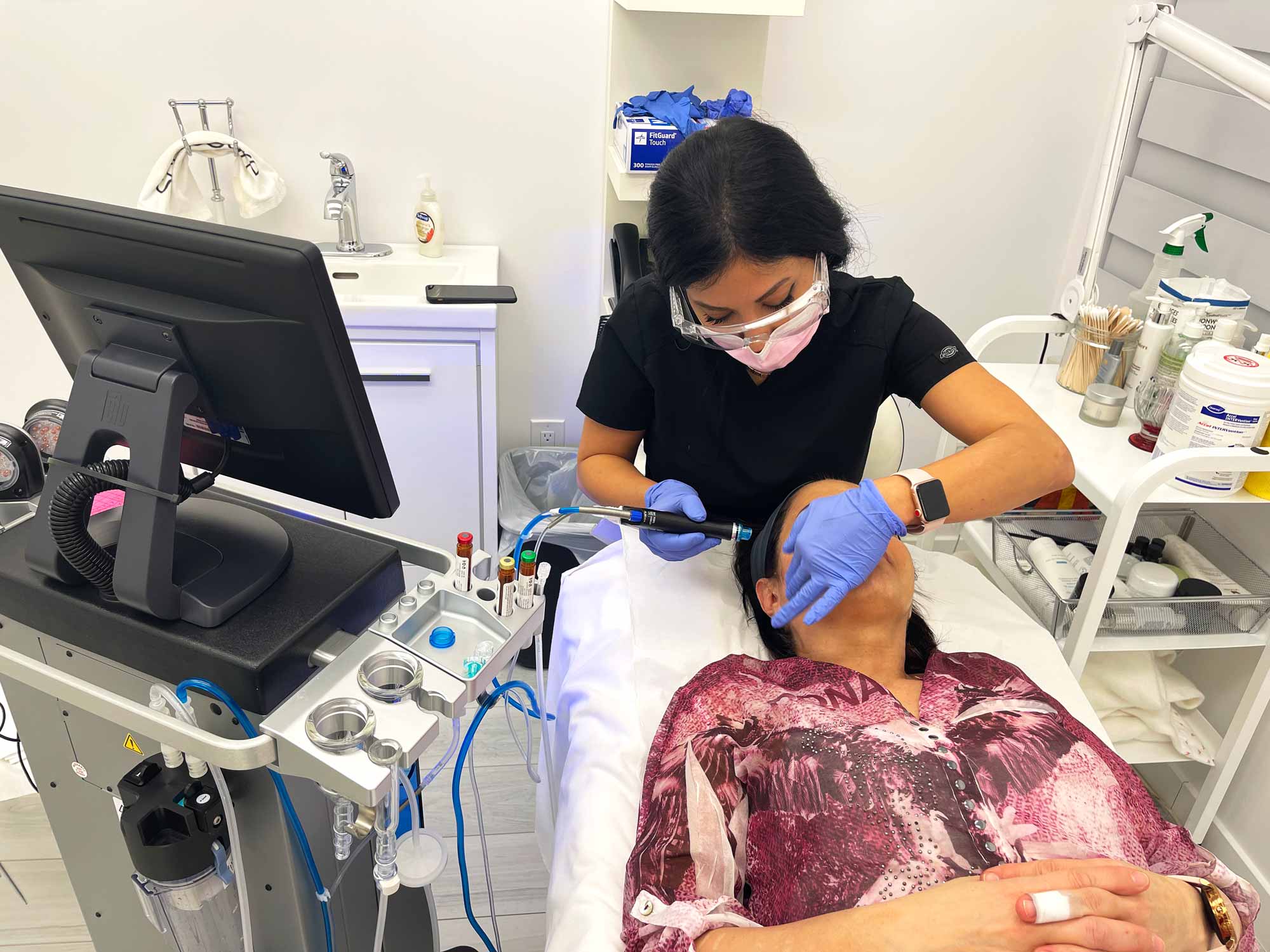 Are There Risks and Complications With a HydraFacial®?
The HydraFacial® is a safe and effective skin treatment. The most common side effect is temporary redness that generally fades within a few hours. LED light can be added to decrease redness immediately after the treatment.
This is not a full list of all possible complications. For more details, please discuss with your doctor.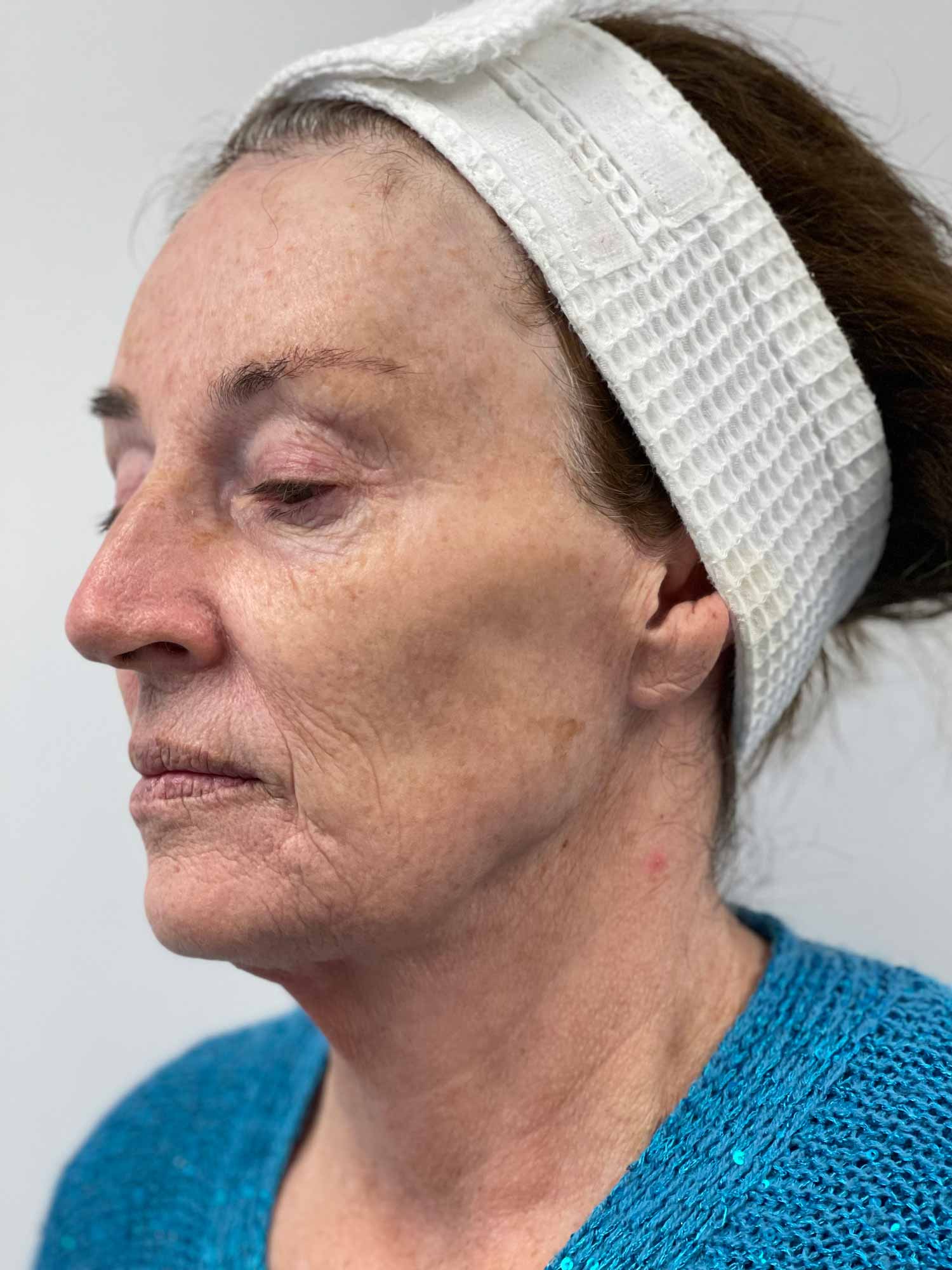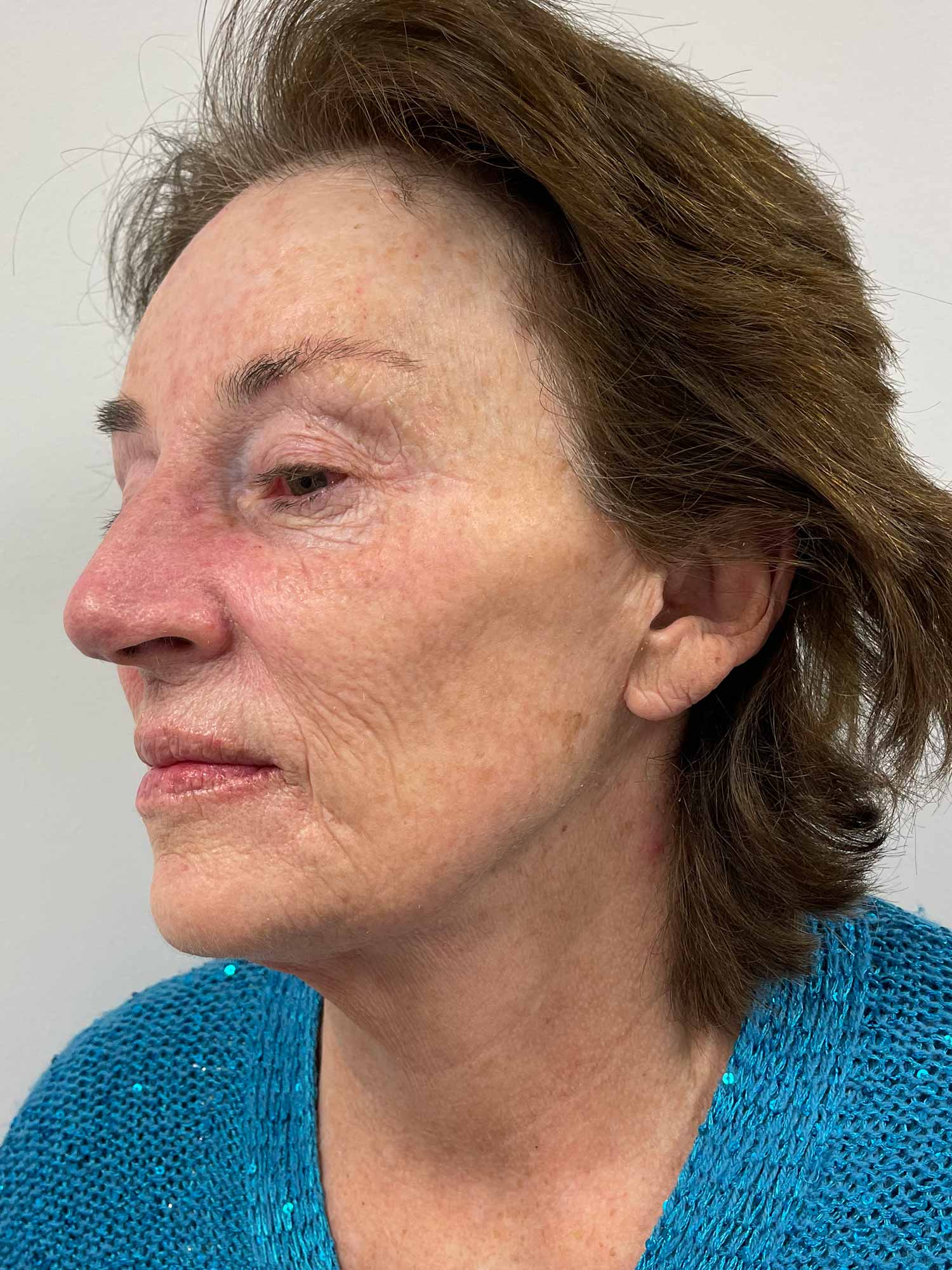 Is There Downtime After a HydraFacial® Procedure?
Along with improving the quality of your facial skin, another benefit of the HydraFacial® procedure is that there is no required downtime. Patients can return to their regular activities without delay.
The HydraFacial® can be done shortly before an outing or a special event, as it leaves the complexion radiant and glowing.
When Will I See My Results?
You will be able to notice improvement to the appearance and feel of your facial skin immediately after your treatment session. These results can last four to six weeks, but because of the natural cycle of the skin and exposure to environmental factors, you will need to have HydraFacial® treatments every month to maintain your stunning results.
At-home skin care, limiting sun exposure, and wearing sunscreen can help prolong your results.
Why Should You Choose MedicSpa Gatineau?
Dr. Patricia Berbari is a board certified plastic surgeon specializing in both medical and cosmetic surgery.
As a plastic surgeon, she has a deep knowledge of the face and skin health. She meets every patient for their first consultation and helps them determine the right course of action.
Every consultation includes a comprehensive skin assessment and customized treatment plan tailored to your skin care needs.
Dr. Patricia Berbari is the Past President-elect of the Canadian Laser & Aesthetic Specialist Society (C.L.A.S.S.) and a member of several societies, including:
Collège des médecins du Québec
College of physicians and surgeons of Ontario
Association des spécialistes en chirurgie plastique et esthétique du Québec
Royal College of Physicians and Surgeons of Canada
Canadian Society of Aesthetic Plastic surgeons
Canadian Laser and Aesthetic Specialists Society
International Society of Aesthetic Plastic Surgery
Our medical spa is adjacent to our surgical center, and Dr. Berbari is always nearby. Here at MedicSPA Gatineau, we pride ourselves on our dedication to the care of our patients and the quality of our services.
Interested in Learning More About HydraFacial® in Gatineau, QC?
To learn how HydraFacial® can help you achieve the facial skin you desire, contact Dr. Berbari and her exceptionally skilled team at MedicSPA Gatineau by calling (819) 414-2200. MedicSPA Gatineau sees patients from Gatineau, Ottawa, and the surrounding areas. We look forward to helping you achieve your cosmetic goals.