Why you should choose Dr. Patricia Berbari at MedicSPA Gatineau?
Specializing in both medical and cosmetic surgery, Dr. Berbari is at the forefront of aesthetic medicine, ensuring natural and beautiful results with a focus on patient safety.
Dr. Berbari is a board-certified plastic surgeon by the Royal College of Physicians and Surgeons of Canada and a member of the Canadian Laser and Aesthetic Specialists Society, and the International Society of Aesthetic Plastic Surgery.
As the ex-President-elect of the Canadian Laser & Aesthetic Specialist Society (C.L.A.S.S.), Dr. Patricia Berbari, can help you to meet your cosmetic needs.
The most current laser, light and RF technologies available on the market, promising superior results for any given skin concern.
All treatment plans are individualized and created by Dr. Berbari and her team.
Every consultation includes a comprehensive skin assessment and customized treatment plan tailored to your skin care needs.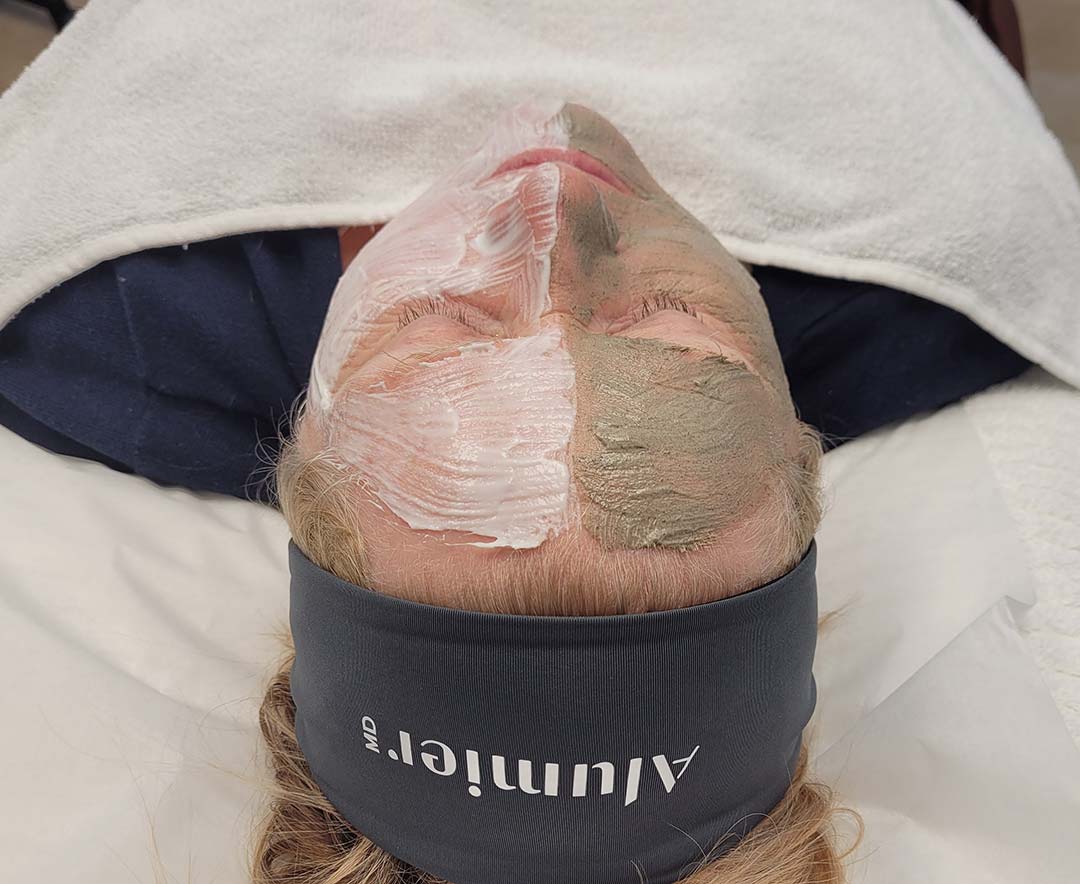 Chemical peels have been used for decades in aesthetic medicine. They work by applying an acid solution that removes the outermost layer of the skin (exfoliation) and gives the skin a younger, healthier appearance.
Chemical Peels play an important role in skin rejuvenation by improving the appearance of large pores, age spots and sun damage, reducing fine lines and wrinkles, and by improving the overall complexion of the skin. Exfoliation is the process of removing the outer dull, dry layer of skin to reveal newer, brighter skin. Depending on your underlying skin condition, Dr. Patricia Berbari will help you choose between a glycolic or a salicylic peel.
A glycolic peel is an exceptional cosmetic option for individuals seeking smoother, youthful, and more radiant skin. Glycolic peel uses a mild Alpha Hydroxy Acid (AHA) derived from sugar cane to produce a light peel of the outermost damaged layers of the skin. Glycolic acid peels work to remove the unhealthy layers of skin and unblock the follicles to reduce and prevent acne. The active ingredients also penetrate into the skin to rejuvenate and regenerate collagen and elastin. Dr. Berbari has helped many patients refresh and revitalize their facial appearance with chemical peel treatments at MedicSPA Gatineau.
During treatment, the patient's skin is thoroughly cleansed and the peel is applied. Depending on whether the peel needs to be neutralized, the peel will either be left on the skin or it will be removed and a lightweight moisturizer or a calming mask is applied at the end of the treatment. The time it takes to apply the treatment can vary depending on the type of peel and how many layers are applied.
A salicylic acid peel is a superficial peeling agent. This means that the first layer of the skin will be treated. Salicylic acid is a Beta Hydroxy Acid (BHA) that is effective in treating oily skin, clogged pores and seborrheic dermatitis. Salicylic acid peels work well for those that have sun damaged skin, dull and lifeless skin, sensitive skin, dry or dehydrated skin, and uneven skin tones. Salicylic acid peels work for those with acne, ingrown hairs, wrinkles and fine lines, and psoriasis. The use of salicylic acid peels can improve the look and the texture of the skin.
For a lighter peel (salicylic acid peel), patients may experience mild redness for a few hours and a mild flaking for 1-2 days following the treatment. For stronger peels (glycolic peel), it is possible for patients to experience dry, tight skin with slight redness and heightened sensitivity that can last 2-4 days. When the old, damaged skin has peeled away, patients will be left with more refreshed, glowing skin.
Chemical peels are suitable for most people whether they are peeling for the first time or using peels as a maintenance program. In general, they can be used as stand-alone procedures, however best results are achieved through combining a peel with good skin care and non-invasive photo-rejuvenation treatments.
Procedure length:
1 hour - 1h30
Visible results:
Progressive
Number of sessions:
Every 4 months
Potential risks:
Redness, Itchy
For more details discuss with the doctor, not all effects and complications are listed
What are the advantages of a chemical peel?
By removing the dry, rough outer skin cells, chemical peels provide a variety of benefits, including:
Improving skin tone
Unclogging pores
Refining texture
Softening fine lines
Reducing acne breakouts
Nice Glow
If you are interested in achieving younger-looking skin, chemical peels may be right for you. Dr. Berbari uses only medical-grade chemical peels to improve your complexion.
To learn more about the procedure or to schedule a consultation, contact us at MedicSPA Gatineau today at (819) 243-7667
Interested in this service?
To learn more about the procedure or to schedule a consultation, contact us at MedicSPA Gatineau today at (819) 243-7667.